The 1st China IVD Raw Material and Supply Chain Expo (CISCE)2021 is opening in Chongqing, China
From 27 to 30 March 2021
Chongqing International Expo Center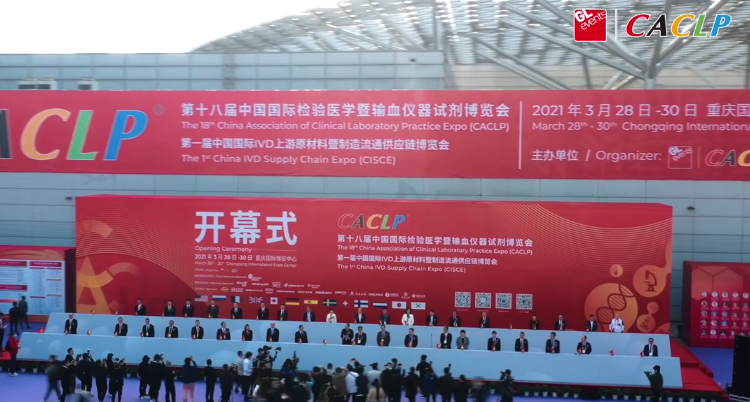 Held at the same time
The 18th China Association of ClinicalLaboratory Practice Expo (CACLP)
Academic Conferences
The 6th China Experimental Medicine Conference
Wiley Conference on In Vitro Diagnostics
The 8th China IVD Industry DevelopmentConference
The 3rd China IVD Distribution EnterpriseForum
The 1st China Key Raw Material & Parts Forum
Nearly a hundred of academic conferencesand satellite meetings will be held during the Expo.
Organized by GL events Ruihe (Shanghai) Exhibition Co., Ltd. China Association of Clinical Laboratory Practice (CACLP) Expo 2021 is going to be hosted from March 28th to 30th at Chongqing International Expo Center with exhibition space over 80,000M2.
There are more than 35,000 visitors attend the Expo every year, most of them are manufacturers, distributors, and professional scholars in IVD industry. There are about 1200 exhibitors from all over the world gather here.
Nearly hundred of academic conferences and satellite meetings will be held during the CACLP Expo 2021.
Nearly hundred kinds of new products are launched in the CACLP Expo. You can find most of the IVD raw materials, products, technologies,and supply chain in the expo.
IVD has got the opportunity while fight against the Covid19 in the pandemic. New technologies are emerging in IVD industry,such as CRISPR detection, RDA, RPA, LAMP isothermal amplification technology. They are challenging the traditional PCR methods.
You can see these traditional and creativeproduct and technology in expo.
You can figure out the IVD future, the trend in CACLPExpo 2021.
About CACLP Expo
Established in 1991, CACLP Expo now is thelargest, the most influential and professional trade show in China In VitroDiagnostics (IVD) and clinical laboratory industry.